The Bible contains many inspirational stories. What are five of the most inspirational ones? What ones would you suggest?
Here are five inspirational stories from Scripture and the possible takeaways or lessons that we can learn from them. It is hard to pick only five of them but here are five that I think are truly inspirational.
Genesis 32:22-30
"The same night he arose and took his two wives, his two female servants, and his eleven children, and crossed the ford of the Jabbok. He took them and sent them across the stream, and everything else that he had. And Jacob was left alone. And a man wrestled with him until the breaking of the day. When the man saw that he did not prevail against Jacob, he touched his hip socket, and Jacob's hip was put out of joint as he wrestled with him. Then he said, "Let me go, for the day has broken." But Jacob said, "I will not let you go unless you bless me." And he said to him, "What is your name?" And he said, "Jacob." Then he said, "Your name shall no longer be called Jacob, but Israel, for you have striven with God and with men, and have prevailed." Then Jacob asked him, "Please tell me your name." But he said, "Why is it that you ask my name?" And there he blessed him. So Jacob called the name of the place Peniel [means "the face of God"], saying, "For I have seen God face to face, and yet my life has been delivered."
When the Scriptures say "The same night" it was the night before he was to meet with his brother Esau who he had stolen the birthright from and Jacob was worried that Esau would kill him since Esau had a large number of men with him. When Jacob wrestled with a "man" until the dawn ("breaking of the day") he saw that Jacob was not going to give up. Jacob asked what this man's name was but in the Jewish culture, when you asked for someone's name, it was the same as saying you have preeminence or dominance over them and that is why the other man said "Why is it that you ask my name?" Then he blessed Jacob and Jacob's name was then changed to Israel which in the Hebrew is "Yisra'el" and means "God prevails" which God did when He wrestled with Jacob. This may have been a preincarnate appearance of Christ. This may be why Jacob named the place "Peniel" which in Hebrew is "Pĕnuw'el" which means "facing God." Jacob faced God and didn't give up. Do you wrestle to find the will of God? Many of us do. Do like Jacob did. Don't give up, be persistent. You might not see the face of God but you may find His will. If you stay in the Word of God and wrestle with it, you will find the revealed will of God which can show you the specific will of God for your life which does not appear in Scriptures.
Hebrews 11:8-12
"By faith Abraham obeyed when he was called to go out to a place that he was to receive as an inheritance. And he went out, not knowing where he was going. By faith he went to live in the land of promise, as in a foreign land, living in tents with Isaac and Jacob, heirs with him of the same promise. For he was looking forward to the city that has foundations, whose designer and builder is God. By faith Sarah herself received power to conceive, even when she was past the age, since she considered him faithful who had promised. Therefore from one man, and him as good as dead, were born descendants as many as the stars of heaven and as many as the innumerable grains of sand by the seashore."
By Abram (later changed by God to Abraham) leaving his own nation of Ur, which was one of the most powerful and wealthy in the known world (Gen. 15:7) to start and become the father of nations and the one through whom all families (nations) would be blessed clearly means that this blessing would come through the Promised Seed, Jesus Christ. We can imply that when God said "all families of the earth shall be blessed" that nations are simply families grown large (Gen 12:3). How hard would it be for you to leave your family, your city, your state, your nation, your work, and everything familiar to you…including your job which would be leaving your financial security.
Abraham personified "the just shall live by faith," and as such was the prototype of living by faith. He moved by faith, he left (Ur) by faith, he left family by faith, he went into the unknown and unseen by faith, and God's covenantal theme, beginning with Noah and reiterated in Abraham's faith, will be seen throughout the entire Bible. Just how full of a realization of the comprehensive nature and world-encompassing blessing that this covenant would come to be would not be fully known for thousands of years. Paul, in striking a blow against the Judaizers, brilliantly "linked the past with the present" in Galatians 3:7-8 show that Abraham was saved by faith and that "those who claimed to be his children" was not enough because the fact that "all nations shall be blessed through Abraham" (Gen 12:3) is about grace and not race. Paul was adamant about dropping the boundary markers that inevitably provoke divisions between the Jews and the Gentiles.
Matthew 4:1-11
Then Jesus was led up by the Spirit into the wilderness to be tempted by the devil. And after fasting forty days and forty nights, he was hungry. And the tempter came and said to him, "If you are the Son of God, command these stones to become loaves of bread." But he answered, "It is written, "'Man shall not live by bread alone, but by every word that comes from the mouth of God.'" Then the devil took him to the holy city and set him on the pinnacle of the temple and said to him, "If you are the Son of God, throw yourself down, for it is written, "'He will command his angels concerning you,' and "'On their hands they will bear you up, lest you strike your foot against a stone.'" Jesus said to him, "Again it is written, 'You shall not put the Lord your God to the test.'" Again, the devil took him to a very high mountain and showed him all the kingdoms of the world and their glory. And he said to him, "All these I will give you, if you will fall down and worship me." Then Jesus said to him, "Be gone, Satan! For it is written, "'You shall worship the Lord your God and him only shall you serve.'" Then the devil left him, and behold, angels came and were ministering to him."
There is no human that has ever lived nor will ever live that could have resisted such a temptation as this that Jesus endured. His trip into the wilderness came with no food and possible no water (although we are not told that) but He fasted for 40 days and He used the Word of God as His offensive weapon. You'll notice that the Devil knows the Scriptures quite well except that he always twists them and takes them out of context. He also offered Jesus an easy way out…to take the world's kingdoms from Satan…showing that Satan is the god of this world (2 Cor 4:4) otherwise how could he offered them to Jesus? What Satan was really trying to do was to get Jesus to go around the cross which meant we would not have been saved from our sins. Like Israel in the wilderness, they needed the daily bread and so do we and the Word of God because as Jesus said, physical bread (or food) is never enough to keep Satan away. He needed the Word of God and so how much more do we need it. We need the daily Bread of Life which is Jesus and the Word of God, the Bible to resist temptation and memorize it when we are tempted like Jesus was. Do you really think getting fed at church once a week for less than an hour is enough to keep temptation away? No, you need to be into the Word daily.
Hebrews 11: 23-29
"By faith Moses, when he was born, was hidden for three months by his parents, because they saw that the child was beautiful, and they were not afraid of the king's edict. By faith Moses, when he was grown up, refused to be called the son of Pharaoh's daughter, choosing rather to be mistreated with the people of God than to enjoy the fleeting pleasures of sin. He considered the reproach of Christ greater wealth than the treasures of Egypt, for he was looking to the reward. By faith he left Egypt, not being afraid of the anger of the king, for he endured as seeing him who is invisible. By faith he kept the Passover and sprinkled the blood, so that the Destroyer of the firstborn might not touch them. By faith the people crossed the Red Sea as on dry land, but the Egyptians, when they attempted to do the same, were drowned."
Moses was said to be the meekest man on the face of the earth (Num 12:3) but meekness is not weakness but it is strength under control. His humble nature allowed him to not get a swelled head as he was the physical leader of the nation and although he had the chance to become the next Pharaoh, and could have lived in sin and the passing pleasure that sin brings, he choose instead to serve God. He looked forward to the Promised Land and even though he was not allowed to cross over into it, he would be in the eternal kingdom and that is why Moses is looked up to by most Jews, even unorthodox (or non-practicing) Jews of today and Christians alike.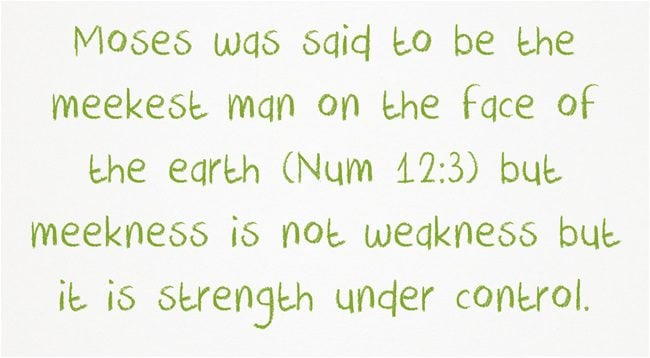 Acts 7:54-60
"Now when they heard these things they were enraged, and they ground their teeth at him. But he, full of the Holy Spirit, gazed into heaven and saw the glory of God, and Jesus standing at the right hand of God. And he said, "Behold, I see the heavens opened, and the Son of Man standing at the right hand of God." But they cried out with a loud voice and stopped their ears and rushed together at him. Then they cast him out of the city and stoned him. And the witnesses laid down their garments at the feet of a young man named Saul. And as they were stoning Stephen, he called out, "Lord Jesus, receive my spirit." And falling to his knees he cried out with a loud voice, "Lord, do not hold this sin against them." And when he had said this, he fell asleep."
This happened right after Stephen boldly proclaimed the gospel and told the Jewish people and told the story of salvation, starting at the beginning with Moses going all the way to Jesus, the Messiah that was promised to come. He told them the truth and things that are written down in the Old Testament, things that they really must have known were true, but they still sentenced him, finding false witnesses to lie about what he was saying (Acts 6:13-15). Stephen was the first Christian martyr and his words while being stoned to death, which was amazingly brutal, mimicked the words of Jesus on the cross as Stephen said "Lord, do not hold this sin against them" asking God's forgiveness for what they were doing as he was dying.
Conclusion
Do you have an inspirational story from the Bible? If so, what is it? What is inspiring to you? Perhaps the most inspiring story of all is that Jesus was a friend of sinners. That He died for us while we were still sinners and enemies of God or as Paul wrote in Romans 5:6-11, "For while we were still weak, at the right time Christ died for the ungodly. For one will scarcely die for a righteous person—though perhaps for a good person one would dare even to die— but God shows his love for us in that while we were still sinners, Christ died for us. Since, therefore, we have now been justified by his blood, much more shall we be saved by him from the wrath of God. For if while we were enemies we were reconciled to God by the death of his Son, much more, now that we are reconciled, shall we be saved by his life. More than that, we also rejoice in God through our Lord Jesus Christ, through whom we have now received reconciliation." What is more inspirational than that in all of human history?